So you are looking into outsourcing web development projects? That's great! Outsourcing web development not only saves you time and money, but it also allows you to work with industry experts that have a broad skill set. 
Outsourcing is hiring a person or company to complete work for you. In this blog, we'll specifically discuss outsourcing web development, mobile app development, and design; however, the steps and tips are relevant for outsourcing in general.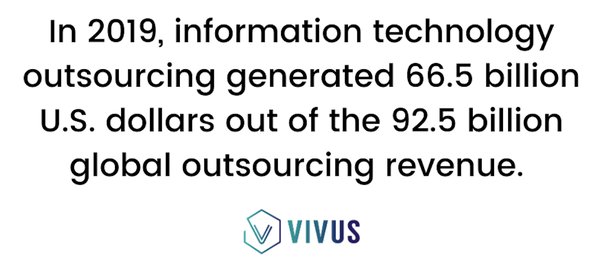 Source: Statista
Onshore vs. Offshore Outsourcing
There are two types of outsourcing. Onshore outsourcing is outsourcing services to a company or person outside of the company but within the same country. As you can probably assume, offshore outsourcing is outsourcing services to a company or person outside your country. 
When people think of outsourcing, they often think of outsourcing to a foreign country to cut costs. While this can be true, there are more points to consider than just reducing costs. For example, are you able to communicate with the offshore company or person often and adequately? This includes cultural, language, and timezone barriers. 
While onshore or domestic outsourcing may be more expensive than offshore, it also has its benefits. You will be in similar timezones, most likely speak the same language, and know the culture. When communication is on point, you'll be more likely to receive the product in which you envisioned. This could lead to fewer iterations and a decrease in hours worked, which cut costs. 

Regardless if you choose onshore or offshore development, there are specific tips you'll want to follow to make sure it's as successful as possible. The steps to follow are relevant for both onshore and offshore development.  
Hiring a Freelancer vs. a Software Development Agency
Depending on the size of the development project you would like to outsource for, you have two options. You can either hire a freelancer or a software development agency. 
A freelancer should only be considered if the project's size is relatively small or if you want them to integrate into your in-house team. Freelancers will be cheaper than hiring a software development agency, but occasionally that can be in exchange for reliability and quality. Just as we'll talk about with software development agencies, you'll want to assess their skill set and their work via reviews and past projects. 
A software development agency can be considered for any size development or design project. Although it'll be more expensive than hiring a freelancer, agencies (should) have the professionalism of a project manager and a development team with a wide range of skills. With more members on the team, they can take on more significant projects and should be able to get the development work done in a timely manner. When working with an appropriate software development company, you can expect the agency to be reliable and produce high-quality work. 
DISCLAIMER: To put frankly… we know that there are shitty software development agencies out there. That's why there are too many "shoulds" in the paragraph above. That's also why Vivus Tech's CEO, Andrew Saldaña, created Vivus Tech because he worked for software development agencies where he didn't like their practices. He saw a need to be better and do better, so he created Vivus. 
6 Steps to Successfully Outsourcing Development in 2020 
1. Be prepared 
Before you can start to look for the perfect software development agency or freelancer, you have to focus on the development project and business objectives. 

Have a clear idea of the project you want to outsource and the specific business objects of why. If there are multiple objectives, put them in an ordered list from most important to least important. You'll also want to have a general project description ready and an understanding of the tech requirements. Last but not least, have a solid understanding of your budget. 

Being prepared helps you weed out outsourcing prospects and keeps you focused on initial calls. For example, development costs can add up quickly, and you may be forced to compromise based on your budget. Having an ordered list of business objectives can help you understand what is most important and what can be eliminated from the project to cut costs. 
 
2. Search for the perfect outsourcing company (read reviews, ask questions, and do your research) 
Finding the perfect software development agency to partner with starts with you. Remember to keep your standards high and that, yes, you actually can have it all. 

According to the disclaimer above, that might take a little searching and question asking, but the extra time spent on this step will make all the difference in the outsourced project's success.

You can find software development agencies on websites such as Clutch and UpCity, or you can consider the development agency who produced this post... cough, cough. 😉 As for freelancers, you can find them on websites such as Freelancer and Upwork. 
What to look for when assessing software development agencies or freelancers for outsourcing: 
Reviews, reviews, reviews* 
Tech specialization and capabilities
 Company portfolio and experience 
Boutique agency or big agency (Do you want to be a priority or lost in the masses of clients?) 
Onshore or offshore
*An extra note on reviews. Most software development agencies will have the capability to build most projects. Sure their specialization may vary, but most will be able to create just about anything you ask (eh, maybe except for machine learning). The reviews let you know what it's like to work with them. Do they actually communicate well? Did they produce timely deliverables? Were previous clients happy with their finished projects? The reviews are almost more important than the stated capabilities on their website. 
 
3. Reach out to the top 5ish companies and start having calls 
After you've done your research, narrow your list to 5ish companies. You don't want to overwhelm or confuse yourself by talking to 10+ companies at a time. Start having meetings with the top 5 companies you are considering. Get a feel for how they are doing business if they are easy to communicate with and get a rough estimate for the project's cost. Depending on your project, this may also be where the non-disclosure agreement (NDA) comes into play.  
Rank those top 5 companies and start writing down any additional questions that you want to ask about their working style, communication style and apps, deliverables, and timeline. 
If there are any uneasy feelings while having meetings, eliminate them from the list. If you feel discouraged about all 5 of the companies you have decided to meet with, then go back to step 2. It's not worth continuing. 
 
Tip: Communication is key 
It cannot be emphasized enough that communication really is the key to successfully outsourcing web development. It goes both ways. You've got to be able to clearly communicate what you want while the developers need to understand and keep you updated every step of the way. 
Luckily there are a lot of great tools out there that aid communication. A few tools that we use include Slack, GitHub, Invision, Zoom, Google Hangouts, and Figma. 
Excellent communication can be completed on Slack for smaller items and Zoom or Google Hangouts for bigger conversations. GitHub, Invision, and Figma are apps that show you code and design deliverables. 
Most software development agencies and freelancers will be using a few of these, if not all. It's the best way to make sure everyone is on the same page. Make sure as you move unto the next step, ask which apps they will be using to communicate with you. 
4. Narrow your outsourcing prospects to 3 and get proposals 
Reach out to the top 3 companies from your list above and get proposals. Once you receive the proposals, read them over carefully and, as always, ask all the questions. Make sure the proposal takes you through the project manager, timeline, and deliverables. You want to know what you're getting and when. 
 
Tip: Start small 
If you've been burned in the past or want to be extremely cautious, you can always start small. Meaning, you can have the software development agency complete a smaller project, so you know you like their communication style and working style before spending the big bucks on your more extensive project. 
5. Sign a contract 
You've done your due diligence researching software development agencies, and now it's time to cross the t's and dot the i's. Choose the company that you are going with for outsourcing development and request a contract. Make sure the contract is up to your standards and that adjustments are made before signing. 

At this point, you should not have any questions because you've asked every possible question you can think of to ensure this is a compatible software development agency for you and your project. But if it must be said, make sure to ask lingering questions before signing. 

If everything looks good… sign the contract!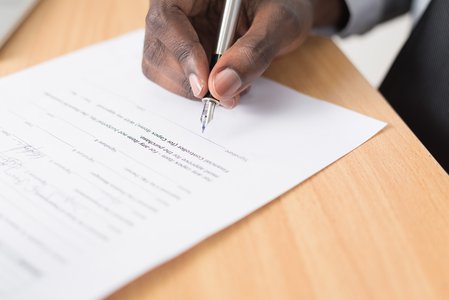 6. Uphold your end of the agreement 
Signing the contract is just the first phase that has been completed. Now actual work on your project begins! Very exciting. You've set up everything to be a success. Now it continues with, you guessed it, communication and feedback. Since you have chosen to work with an Agile development team, you'll receive multiple iterations of the project along the way. Agile development ensures a high-quality result, but that can only be achieved with your open and honest feedback. This allows developers to fix small issues before they become large, expensive issues to resolve. 
Summary 
Outsourcing development can be the perfect solution to cutting development costs, getting your project done in a timely manner, and having access to industry experts. Maybe you've been burned by software development agencies in the past, but rest assured that there are great agencies out there that are producing high-quality software. All you have to do is follow the steps listed in this guide to find the perfect software agency for you, and you'll have a successful outsourced product in no time.